| | |
| --- | --- |
| | Görlitz is a German town on the border with Poland. Its15th-century replicas of the Calvary chapel and edicule (tomb of Christ) from the Church of the Holy Sepulchre in Jerusalem are examples of medieval piety centered in pilgrimages and the Passion of Christ. Photo A is the entrance to the "Holy Grave" (Heiligen Grab). The structures were built by Georg Emmerich, who made a pilgrimage to the Holy Land in 1465 and on his return to his home town, had the replicas built. During Holy Week, Christians would process from the nearby St. Peter's Church, just as pilgrims in Jerusalem would process along the Via Dolorosa. |
Facts and Photos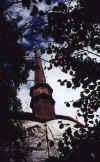 While there are 17 replicas of the edicule (the structure within the Church of the Holy Sepulchre in Jerusalem over the tomb of Christ) in churches throughout Germany, the Görlitz complex is unique because it includes copies not only of the edicule but also of the Calvary chapel and anointing stone from the Jerusalem church. The tall spire (photo B) tops the Calvary chapel; this is not in imitation of the church of Holy Sepulchre, since the Calvary chapel there is within the larger structure and is not a free-standing building.
The two-story building (photo C, below right) has both Adam's chapel on the lower floor and the Calvary chapel on the upper floor, as in Jerusalem. Photo D (below left) shows all three structures, the Calvary Chapel on the far right foreground, anointing stone in the center, and Edicule over the tomb in the left background. The structures are positioned the same as in the church in Jerusalem.

The edicule (photo E) is topped with a cupola as it was in the middle ages. It has the same two-room structure as in Jerusalem, with a stone slab on the right hand side in the inner room, just as the Jerusalem edicule.
Robert Ousterhout, describing a similar site in Bologna, Italy, writes: "Geography was a flexible concept in the Middle Ages. The `Jerusalem' in Bologna wasn't simply a copy of the holy sites; it was believed that through the combination of image, dedications and devotional acts, the sacred topography of the Holy City could be relocated, re-created, as it were, at a new site. Bologna could become Jerusalem. . . . The significance of Santo Stefano lay in the belief that sanctity or spiritual value could be associated with persons, places or objects, and that by being captured in matter, the numinous qualities could be carried away from the original location. Such transfers of holiness were common in the Middle Ages, although they were normally enacted on a smaller scale than our Bologna example, and were a routine component of Christian pilgrimage" (29). He summarizes later, "The Jerusalem imagery thereby made spiritually present the life-giving powers of the Tomb of Jesus" (31).